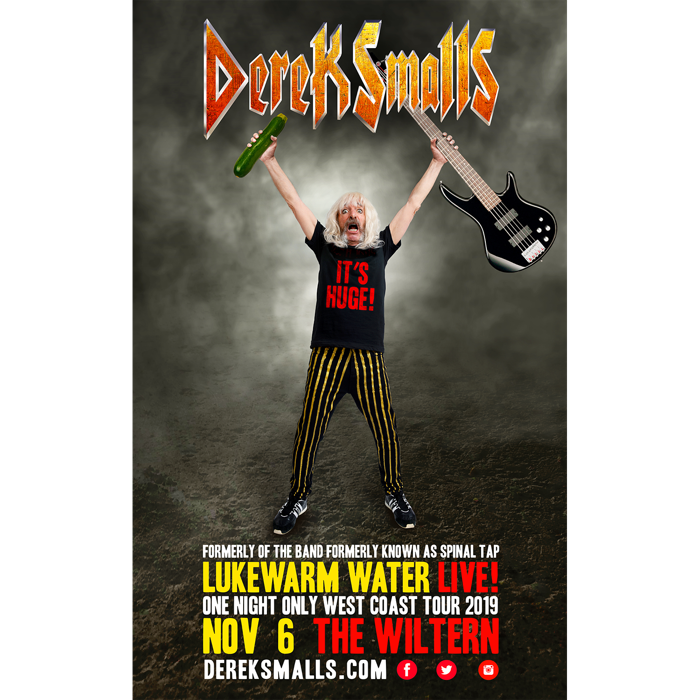 Derek Smalls | Tour Poster
Official Lukewarm Water Live! Tour Poster
Details:
- Size: 12" x 18" (30.48cm x 45.72cm)
- Printed on white stock
- Perfect for your dorm, home, office, studio, or a gift

---
Derek Smalls, former lead bass player of the band formerly known as Spinal Tap hit the road in 2019, accompanied by a panoply of special guests. The bottom force of the fabled heavy metal band played a whistle-stop series of concerts along the West Coast of the US and Canada, kicking off the tour at the historic Wiltern Theater in Los Angeles.
Each performance featured Smalls in concert accompanied live by an all-star band as well as a full symphony orchestra and other special guests live via satellite.
The series of concerts, which would act as a precursor to a major world tour planned for 2020, featured music from his recently released album
Smalls Change (Meditations Upon Ageing)
, as well as favorites from the Spinal Tap songbook.
Smalls Change
is described by knowledgeable observers as a poignant and oftentimes furious contemplation on ageing that explores the passing of time and all things loud.